Hello all,
I have a question for you about dealing with annoying Marshal blitzers.
Dobby125 has a great strategy for dealing with these guys that is usually very effective:
Scout the General in the center (usually there)
Block General with either your General/Marshal (while your opponent's Marshal is moving down your flank)
Bring up your Marshal/General to accompany your other high piece
Capture opponent's General w/your Marshal (your Marshal will get killed by his Spy)
Capture the opponent's Spy w/your General
Attack w/your General in the direction opposite of the Spy's approach (if the Spy moved sideways, attack up; if the Spy attacked vertically, move sideways). You'll almost always capture a Colonel that was waiting there anticipating a General trade-off
Gut the opponent's field, moving towards the corner from which the Marshal attacked
Most of the time these guys aren't very skilled players, and once you have done this maneuver you stand a very good chance of winning the game. There usually aren't any bombs on the flag side of the field.
The question is: what if he senses what you are up to, and his Marshal is not out of position? What would you do? Would you have a Colonel ready to move in from the center as well?
See this screenshot, which illustrates a possible scenario. You are Blue; Blue to move.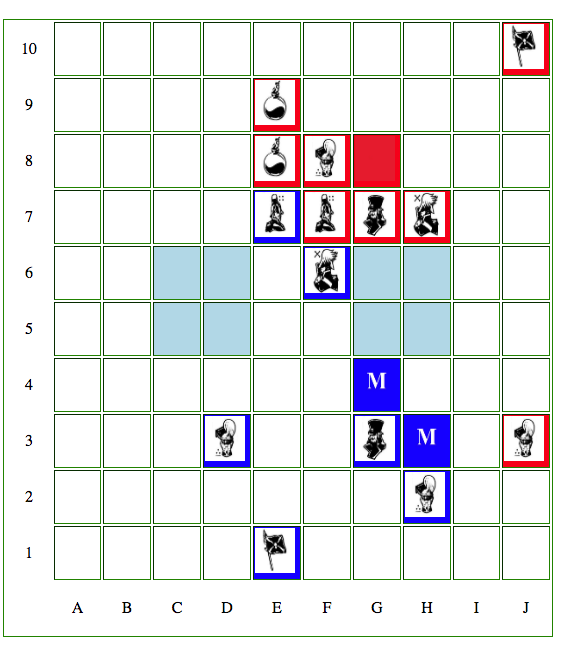 It seems like his Marshal would be able to block you from reaching the corner; since that's the case, I think I'd try to have a Colonel ready to go. If you were up a Colonel (as you should be at this point) this seems like the best course of action and seems failsafe.
What do you think?
Edited by Lord Invader, 24 January 2019 - 04:47 PM.